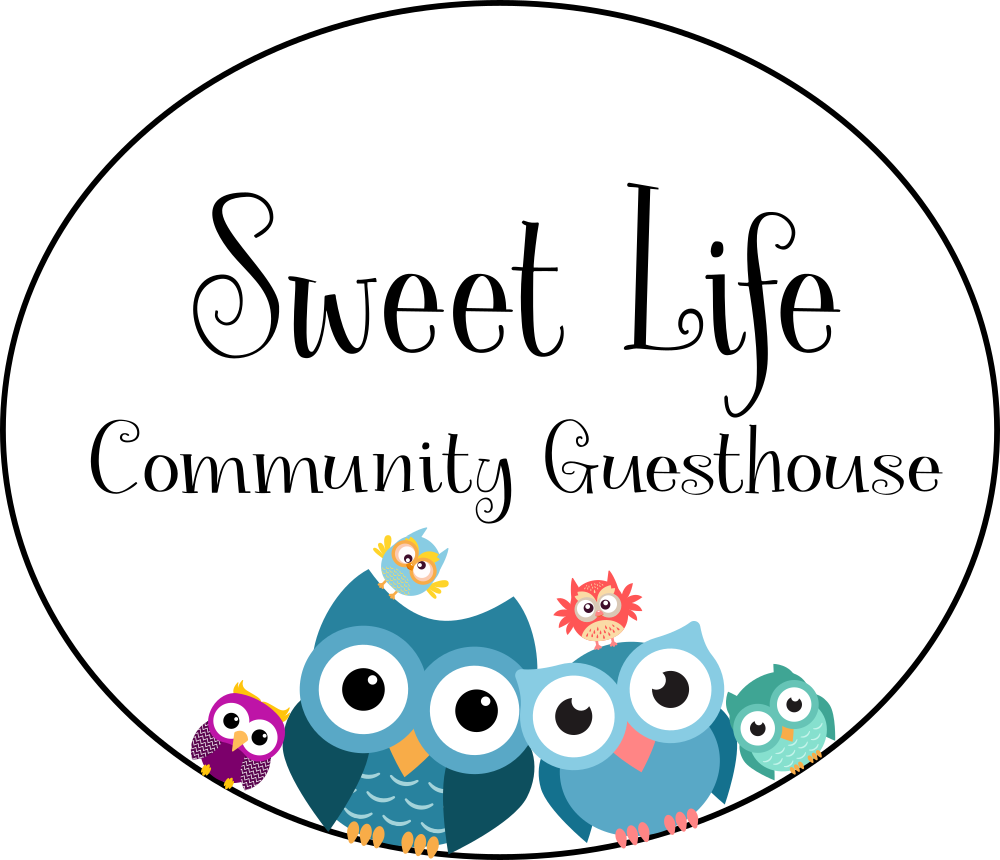 Imagine lying in a hammock on the sea, watching a beautiful sunrise and the tides coming in, listening to the sound of the waves and the local mosque calling for prayer. Sounds tempting? Our home is undoubtedly one of the most beautiful and unique houses in Koh Lanta, located in a real fishermen neighborhood in Old Town. The Wooda House is a private, all-wooden house, with a kitchen, large living area, two bedrooms, a large outside deck and gorgeous views of sunrise, the sea and neighbouring islands. The house can host up to 6 people. If you are looking for an authentic local experience, but with style and comfort, our home is the place for you.
What are you looking for while traveling? If you are looking to see and experience the real Thailand, while meeting lots of new friends, and staying in a place that is comfy, cozy, stylish, and feels like home, then Sweet Life is totally your place! Sweet Life is a little community Guesthouse in the Old Town of Koh Lanta. We welcome anyone who would like to stay in a beautiful place, in a real local Thai village and meet other like-minded people. Our place has 6 double rooms, a dorm, with shared clean and modern bathrooms, a kitchen and many community area to hang out and meet. Outside there is a small coffee shop serving aromatic coffee and simple breakfast and our famous top-rated cooking class Cooking with Mon.
Nestled in a tropical garden with organic vegetables and herbs, you will find 7 double cabins and a family house, designed with furniture made of natural materials like rattan and wood, warm lighting, soft linen, cushions and throws to provide a feeling of coziness and to allow you to unwind from everyday life. In our beautifully designed and cozy community areas you will feel as if you were at home. But instead you are on a tropical island in Thailand, on a 1 km distance from two of Koh Lanta's most stunning beaches Relax Bay and Long Beach. Green Pepper is the perfect base to explore our beautiful island.
Welcome to Blue Ocean House! This recently renovated house has two air-conditioned bedrooms, a fully-equipped kitchen and plenty of living space. The house can host up to 4 people and is perfect for a family with kids or a group of friends. The house is built on poles on the sea in the lovely little fisherman village of Lanta Old Town. You will enjoy stunning views of the ocean, nearby islands and fishermen life. Come and stay with us if you are looking for a real home, spacious, simple and well-priced in a local village with all the conveniences from back home.
Mountain House is a 'Little House on the Prairie'. The two-bedroom house has a warm and natural feel, built with materials such as wood and bricks and surrounded by various fruit trees, tropical plants and the beautiful hills of Koh Lanta. The house has two bedrooms with air-conditioning and ensuite bathroom, perfect for a family with kids or two couples. The living room with basic kitchen opens up to a cozy deck where you will spend most of your at-home time, listening to the sounds of nature and overlooking green hills. You will never guess you are just 1 km away from Koh Lanta's popular beaches Long Beach and Relax Bay. The Mountain House is the perfect base to explore our beautiful island if you love the feeling of a secluded and cozy home.
Cook like a local and eat like a local, is Mon's motto. Mon is the charismatic chef who will introduce you in a relaxing and fun way to the secrets of Thai cooking. Mon will guide you, entertain you and introduce you to new ingredients, flavors and cooking techniques of the Thai kitchen. Mon doesn't just let you follow a recipe but helps you develop 'a feeling' for Thai food. He does this with his natural charm, humor and expertise. Cooking with Mon is now the number 1 cooking school of Koh Lanta and is located opposite to Sweet Life Community Guesthouse, in the little fisherman village called Lanta Old Town.